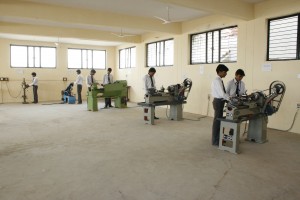 Mechanical Department has sufficient space and equipment as per norms of AICTE. At present, there are 06 laboratories in the Department. Viz. 1.Fluid Mechanics Lab
2.Thermodyanmics Lab
3.Material Testing Lab-I/II
4.Mechanics Lab
5.Workshop Lab-I/II
6.Engg. Graphics/Machine Drawing Lab-I/II
FLUID MECHANICS LAB
This lab has been established with turbines and pump sets. In this lab the students are made to learn the practical details about the turbines and pump sets, their constructional details, working principles, and also how they are used in workshops.
THERMODYNAMICS LAB
This lab has well established with 2-Stroke & 4-Stroke Engine Models, Fire & Water Tube Boilers properly in working condition.
WORK SHOP
Work shop is fully equipped with Carpentry Shop, Welding Shop, Forging Shop, Black Smithy Shop, Heat Treatment Shop, Fitting Tools, Domestic Wiring and Tin Smith Materials.